Testimonials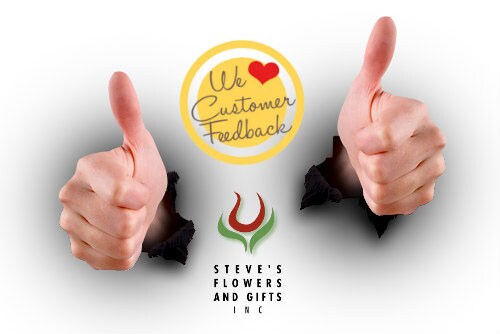 I was looking for a flower shop by my daughter's work so I found Steve's flower shop online and read the reviews and decided to go with them. I have ordered flowers several times from flower shops but not once have I ever received a picture of what was sent until I ordered from Steve's. I am very impressed with the arrangement of flowers and balloons that were delivered. I was also impressed with the confirmation emails I received when delivered I wish they were closer to my home town I would use them always. GREAT JOB!!
Wendy G, 3/3/18
I received excellent customer service when I ordered flowers for a cousin's funeral from Steve's. They called to let me know the order could be delivered earlier than I requested if I liked. Then they emailed me a photo of the arrangement. They were as careful with this order as I would have been had I created the arrangement myself. Do yourself a favor and use Steve's for all your Indianapolis floral needs. I know I will.
M Middaugh 3/30/18
I used Steve's Flowers and Gifts to send a floral arrangement to someone in the hospital. They called me to tell me that my friend was in ICU and could not receive the flowers, but they would call the hospital daily to see when the flowers could be delivered. Upon delivery, Steve's Flowers and Gifts emailed me a photo of the arrangement with my card. I can't say enough good things about this business and they are now my "Go To" florist for all deliveries.
Julie 4/9/18
"Dear Steve's Flowers, I just received a call from my aunt Carole Rose to let me know that she received "the most Beautiful Flower arrangement!!!"I wanted to share with you that my aunt Carole loved the flowers that you sent and she is enjoying every moment looking at them. She told me that they are truly "brightening her home in every way!!!"Thank you so much for your EXCELLENT Customer Service you consistently provide each time I call!!! With sincere best regards, "
Dixie and Paula C. 8/8/17
"Thank you for the delivery. I received a picture of the flowers from your company before they were delivered and they were BEAUTIFUL. I thought it was a nice touch for you to do that. My daughter received them in the afternoon and she was thrilled!! It was very easy to navigate the website and to place my order. If I ever have to order flowers again, I will make sure to use your company."
Maggie 4/7/17
I have used you all several times before and I must say that I am so impressed with what you do. You all are awesome and I thank you soooo very much. Being that I'm down in Alabama I can always count on you all to take care of what I need. Thank you again
Karen M. 2/9/17
Hello Steve and company,
Thank you for the beautiful vase of flowers to my mother! She loved it and was so happy to receive the gift, I believe it really helped us close the distance for her special day. I also appreciate the personal response to my initial inquiry, as well as the updates. You really know how to make sure people are taken care of during these important moments.
Much gratitude, Kelly M. 6/29/16
It is difficult being 3 states away when urgent emergencies take place. In this internet world national and international companies try to make their business look personal and yet my experience has told me over and over again, 'Go local!' Thanks so much for sticking with my request to get flowers to my family in difficult times. Your flower shop met unplanned obstacles to delivering my flowers with persistence and compassion. I have family in the Indianapolis area and I will utilize your services over national online services every chance I can get.
Thanks again! Doug D. 3/15/16
I just wanted to thank you for the great job you did in delivering an absolutely beautiful Valentine's Day arrangement to my wife. The roses were fresh, colorful and fragrant, the greenery and Baby's Breath were fresh and full, and I liked the classic vase. I appreciated being able to add the premium chocolates too. Lastly, they were delivered as requested and all this was provided at a reasonable price. From now on, Steve's will be my preferred florist!! Thanks again for coming through for me.
Jeff M. 2/12/16
Thank you so much, Steve's Flowers. Your service is fantastic, from the beautiful photo and emails, you make this a very 21st century and worry free process. Kudos!
Best regards to you and your company!
Hollie W. 1/22/16
"Thank You all so much! You are Rock Stars of the Flower World!!!" Regards,
William C
Operations-Engineering Technician 12/18/15
Hi Steve,
Just taking a break after setting up the hall. Your floral arrangements are Outstanding!! Thanks so much! Looking forward to having everyone enjoy them tonight (also appreciate very much that you put that sample arrangement together)
Best regards,
Ruanne 12/12/15
Steve's Flowers,
I purchased flowers for my sister's memorial service, and they were more beautiful than I imagined. They were the largest flowers there, and the most beautiful. I appreciated the price just as much.
I will definitely use your business when I need flowers again.
Matthew W. 9/27
Hi Steve Team,
I just wanted to thank you for the wonderful Candy Corn arrangement that you delivered for my sister's birthday yesterday. This was the second time that I ordered online from your store and both arrangements were perfect. I love the pictures that you send. A few years ago, I ordered flowers for my daughter's birthday. They were sent from another store in Indianapolis. I visited her that weekend after they were delivered, and they were the worst looking flowers I had ever seen. I would never have paid for flowers that looked like that. I am so happy to have a go to florist that I know will provide great service. You will be hearing from me again. Are you thinking of opening a shop in Evansville?? Thanks again.
Susan V. 9/19
Oh, my God, how COOL is that? how great to get a FOLLOW UP email since I am far away, and this here it is confirmed that my arrangement is being sent and you give all the terms of the agreement. It is wonderful to see the arrangement, which is nothing less than spectacular. What a great idea—because the sender often never gets to see it and just guesses what he or she really got for $75 or whatever. I love seeing the actual thing!
I really appreciate your complete, thorough service and ultimate PROFESSIONALISM through a very pleasant and helpful phone call followed up with this very proactive, courteous, and informative email with picture.
I DID read the comments online to see if there was any trouble reported with you. A short time ago I was sending flowers on the up near Geist and did in fact skip over my first choice closer to the recipient because a couple reviews were pretty bad Online reviews do make a difference, especially when sending flowers in a different town because you are kind of shooting in the dark.
GREAT job. I cannot wait to hear my stepmother Dolores' surprise and happiness when she receives them!! Thank you so much.
Nancy L. 9/2
What an amazing service!! I will absolutely review you positively online. Sending a gift from afar is a leap of faith, so it's great peace of mind to not only get personal confirmation that the delivery is going through, but being able to see it! So Cool!
Beth J. 4/20/15
Thank you so much for the e-mail confirmation! I truly appreciated and loved seeing the flowers that were being sent!!! I was really impressed. What a wonderful benefit to your clients!!! You guys rock!
Trudy R. 4/17/15
WOW Steve, not only am I impressed with the display, but the fact you took a picture of it to show me, honestly blows me away! Plus, I just placed the order an hour ago, so the speed of all of it is very impressive as well. I definitely plan on using you and your team again in the future, and will definitely recommend you to others as well! I will also post a great review online!
Thanks,
Josh B. 3/22/15
Thank you for the helping and really listening to what we wanted for our Aunt's funeral bouquet. Although I never saw it, the family LOVED the bright flowers and said it was the only arrangement that Aunt Karen would have liked…it suited her. It is refreshing to have someone actually help you achieve the result you want as opposed to sticking with "tradition" or commonplace. Thank you again, I could not be more pleased,
Susan C. 03/03/15
Good afternoon,
I just wanted to send a note about how happy we are with the flower arrangement. For many years I wasted time using online companies when you were right around the corner from my parents. The last two special occasions I have purchased from you and both arrangements have been fantastic. The Christmas arrangement is gorgeous. I simply wanted to take a moment to thank you. Merry Christmas and Happy New Year!
Victoria M. 12/26/14
I never took the time to thank you for the beautiful centerpiece that your store, in Greenwood, made for my Mother's celebration of life ceremony back in August. It was absolutely stunning and exactly what I wanted. The service was incredible as well. It was hard for me to walk in the store and think about buying flowers for my Mom. They made it a very good experience and helped me create just the perfect arrangement. The only way I know how to thank you is to recommend you to everyone I know and to keep using you as a florist. In fact, I ordered flowers for a friend's mother's funeral last night to be delivered today.
Again, thank you making a hard time a little better.
Rebecca M. 10/27/14
Thank you so much for the wonderful service you provided for our event. The flowers were just beautiful. Your drivers were wonderful. We have received numerous compliments about the flowers. We did end up giving the centerpieces away during our raffle and the guest very much enjoyed it.
Ginny W.
St. Francis Health Human Resources 8/22/14
I wanted to thank your staff at the Steve's Flowers and Gifts on Thompson Road. I called to inquire about ordering flowers this morning and the staff was knowledgeable and provided great customer service. I was ordering flowers from my work place for our fellow co-worker who is in the hospital at Methodist. I ordered some Get Well flowers called Care and they are beautiful. I was amazed by how quickly it was delivered. I placed my order around 11:45 and it was delivered probably around 1:30. That is remarkable! This is why I continue to use your store and recommend you to friends/co-workers. The young lady who took my order worked with me to come up with something that our co-worked would love. She ended up being very pleased with her flower arrangement and she shared the pictures with us.
I just wanted to thank your staff as well as your delivery folks as well.
Gina M. 9/25/14
The flower arrangement was absolutely beautiful, as usual. We have been so pleased with every order we have placed since we've been lucky enough to have found Steve's Flowers. You guys are the best in Indy!
Thank you very much,
Denise M. 9/24/14
I will certainly keep you in mind for future orders. Jodi loved the arrangement and sent me a picture.. You did great job…they are exactly what i wanted…. Thank you for your caring services…
Patricia O. 8/16/14
Steve's Team,
I hope that your business keeps on keeping on - this is by far the best "customer service" I have ever seen! Kudos to you and your team!!
Kaye. G. 3/28/14
Good morning! Unfortunately I had to place another order today for flowers for another funeral service. However it was so nice to know that I had a florist that delivered the prettiest flowers I have ever ordered and were so professional. I recommended you to others today as well. Thank you. It made this day a little easier."
Sincerely,
Lisa M. 3/4/14
I ordered two flower arrangements for my brother's funeral online. Always leery when ordering from new places from pictures but read some good reviews so I went with it. The arrangements were exactly as the pictures online and were larger than I expected. Thank you for your service, I am from out of town and was very pleased with your product.
Ronald B. B 2/26/2014
Steve & Staff,
I wanted to thank you for sending my girlfriend such beautiful flowers. She sent me a picture and they look exactly like the shot you sent me this morning.
I am very pleased with the level of service and price point of your products. I will definitely be placing all of my flower orders with you from now on.
Thank you,
Brian
12/9/13
Thank you for the wonderful service. I didn't mean to make such a big deal of this but, the arrangement I picked was so appropriate for someone special. You hit this out of the park.... I am extremely pleased. I know she will as well. Thank you so very ... Steve's staff
Happy Customer
Cartier
Thank you so much for sending this photo. You have a customer for life in me now. I recently had another funeral that I had to send flowers to and since it was out of town I just used the standard FTD.com, as a last minute we were able to attend the viewing and imagine our shock when nowhere in the funeral home could we find out flowers. I discretely asked the funeral home staff, they checked logged books nope no flowers received. I immediately called FTD's 1800 number and was told that they could not do anything about it at the moment the local florist they had used was not answering their phone. But they wanted to assure me that the flowers were delivered the next day FTD calls me to tell me they had got a hold of the local florist who confirmed the flowers had been delivered two hours before the view started. Yet they were not there when I was at the funeral home. I called the funeral home the next day and nope they never received them. It took me two weeks to get FTD to refund money for flowers not sent. So I was very nervous about sending flowers for this funeral and you taking the time to send this photo has just made my day. I will be using you again and will tell others for sure. Thanks for having the best customer service I have had a in a long time.
Cristina P.
9/26/13
Steve,
First, let me thank you for your service. I have ordered many flowers in the past and the flowers you guys sent are some of the best. The reason for the email is that I wanted to tell you how I have never received an email from the shop back. I also have never received an image of the actual flowers that were being sent. I just want you to know that this is an amazing thing you guys do. I will definitely spread the word about Steve's Flowers and Gifts. I will also be writing a review. Thanks again and keep up the great work and awesome service.
Phil J.
7/18/13
"Thank you, I love it! I'm sure he will too! I appreciate your correspondence and I love that you sent me a photo. I recently sent flowers through another company who contracted another florist and when I arrived at the funeral and saw the flowers I was mortified! Thanks again, I will be using Steve's Flowers and Gifts in the future!"
Lesley J.
5/16/13
"The arrangement is just beautiful and I am sure it will be a "crowd pleaser". I have never had a florist be so proud of their work that the customer was sent a photo of their purchase. What a great perk for any customer. Thank you so much!"
Janice W.
Martinsville, VA
4/26/13
"Thank you so much, Steve!! The flowers are absolutely beautiful, and my mom really loved them. Thank you for helping to make her birthday special! I also really appreciated the free delivery to our zip code. That's an amazing deal. I will definitely let my friends and family know about Steve's flowers! Thanks again."
Sincerely,
Kala P. :)
4/11/13
"My daughter said the basket was beautiful and full of goodies. I appreciated the email picture and will certainly be a repeat customer. You offer outstanding customer service."
Thank you,
Judy A.
3/27/13
Your service was wonderful. I love that you notified me the flowers I had ordered for my brother-in-laws funeral had been delivered but then you topped that by sending me a photo of them so I know exactly what they looked like. I have had several family members comment on them.
So thank you so much.
Linda B.
1/22/13
Wow! What a great service you guy's do. I love that you sent the photo so I know exactly what was delivered. I have never had a florist do that before. I am also impressed that you have a service free delivery area. LOVE YOUR CUSTOMER SERVICE!! Next time I need a florist you will be my first call.
Thanks again,
Sue B.
12/9/12
I AM going to give you a good review there. How great to SEEEEE the flowers. I really appreciate that. I can't wait to see how they are received!!! I liked your ad when I googled flowers-Indpls-southside. The personal dream of Steve and that it's a family business. Very professional and enticing website. I felt a personalized site and business like that is the way I want my flowers to be. Thanks for helping me choose the right thing and I love this individualized pix and note. Thank you!! I will be back for more in the future.
Nancy M.
10/9/12
Dear Steve and staff,
Thank you very much for sending the photo of the flowers I ordered. I've ordered dozens of flower arraignments sent across the country over decades and this is the first time the florist sent a photo of the actual flowers sent. From now on I will use Steve's Flowers every time I send flowers to my family in Indianapolis.
Thanks again,
Robin H.
10/5/12
THANK YOU for the excellent customer service and the quality of the merchandise that we received from your flower shop. Your sales staff and designer assisted me in making a great selection for a Keepsake that was sent to our boss for the passing of her Grandmother. I purchased a metal lantern, a sitting angel and silk flowers. I was able to see the silk flowers and choose the colors I wanted used in the arrangement. When you purchase 3 separate items that require assembly it's difficult sometimes to envision the finished product but your staff did an excellent job of accomplishing that task. You want everything to be just perfect and it was. When your designer had completed working her magic with these 3 separate items the finished product was simply beautiful!! I also appreciated the arrangement being delivered on time and the delivery confirmation. Keep up the great work!!
Christy M.
Balkamp Inc.
9/12/12
I will also respond via google but I wanted you to know. I love, love, love that you sent a pic of the flowers to be delivered. One thing I always wonder is just how the flowers ordered looked. This is a fantastic practice, thank you. And, more importantly, the arrangement is beautiful and my Mother is sure to love it! Thanks again.
Customer for life.
ps....I started using you when I worked at United Airlines. I used to phone in orders all the time. Darlene worked with me and I actually replaced her when she decided to leave Eye Specialists of Indiana. I was thrilled to see she started using you at her new job also. Thank you so much and by the way, free delivery was actually the deciding factor in sending flowers to my Mom for no other reason than that she is cute. Now, knowing there is no delivery charge for her address, I intend to continue to send her flowers for no reason at all. I decided this morning I will buy her flowers now while she can enjoy them instead of as a funeral arrangement. Plus, every girl deserves flowers for no reason sometimes. I'm sure you agree.
Deborah S.G
8/29/12
Hello Steve
I would like to thank you for the EXCELLENT customer service you provide. My goal was to find a special gift for one of my best friends and you came through for me. I live about an hour away but wanted to surprise her at the beauty school she attends. You went above and beyond by not only sending me a confirmation email but also a delivery email with a picture of the flowers attached. you ever need a recommendation or reference for your services, please don't hesitate to contact me. I already placed a review on your Google Places Page.
Great job!!!
NaShanta M.
8/30/12
Thank you very much!! This is beautiful.
I have to take an extra moment to let you know that I am so extremely happy with my experience with your business and will definitely leave a review on Google. I didn't take the name of the lady that took my call but she was so helpful and polite. She was able to make some suggestions for the wording on the card rather than leave me stuttering through my thoughts. It was probably the most pleasant ordering experience I've ever had. I think the photograph idea is simply amazing. I can't tell you how many times I've ordered flowers or gifts out of my area and never have a clue what the person receives and can only hope that they got what I intended to send. And, your personal thoughts of condolence mean so much. My friend Maureen and her family are devastated over this loss and the extra caring thoughts are so appreciated. They need all the positive, caring energy that they can get right now.
You are amazing and I wish you all the very, very best.
Sincerely
Kathy T.
7/27/12
Just wanted to send a compliment on your wonderful website and service.
I ordered flowers for a visitation/funeral last week and your website made it extremely easy to do so.
Also, when I checked e-mail on Monday, I had an actual photo of the flowers which were sent.
This is one of the best websites I have ever visited and the best service.
I couldn't find a place on your website to send you this note, but definitely wanted you to know how pleased I was.
Thank you.
Becky B.
Mt. Vernon, Illinois
6/6/12
Dear Steve,
Though it has now been over 1 week since Mother's Day weekend I still wanted to thank you for providing roses to Christ the King so that we could help support Right to Life Indianapolis. All went well on our end and I hope that the delivery went smoothly for you as well. Thank you for giving us a
discounted rate. It allowed us to send proceeds of over $500 to Right to Life.
I look forward to working with you again next year.
Blessings,
Carol F.
5/22/2012
To the Staff at Steve's Flowers,
Last Thursday my sister and I ordered floral arrangements for our father's funeral services at Forest Lawn Memory Gardens. These consisted of a casket spray, a stand up arrangement, and small table arrangement. I just wanted to let you know how pleased we all were with these arrangements. You took our ideas and created exactly what we had hoped for. We could not have been happier with the results. Thank you so much.
Sincerly,
Lorraine G.
Decatur, Illinois
Wow! I am so happy to have received the photo of the flowers created by Steve's for my friend. What a fantastic idea! The flowers are simply beautiful. The customer service was perfect. And as far as the personal thank you for my business...well, I am speechless - in a very positive way.
LilMrs
Thank you. I appreciate your service and the beautiful arrangement. My friend was so impressed that she took a photo and sent it to me.
Thanks again,
Jeanna D.
Thank you for the incredible service. The picture of my purchase and following delivery notification was very helpful. My wife loved the flowers. I'll be back and I'll tell my friends about your exceptional service.
Thanks,
Clint Y.
The centerpieces were absolutely magnificent! Way beyond my expectations! The lilies were displayed in an exceptionally beautiful way. Thank you so very much! I would be first in line to recommend you to anyone for anything!
Warm Regards,
Kelly S.
Wow, that's pretty awesome you take the time to send me a picture of my order. I love it. With my sister and her family just moving there, I like to send surprises all the time and I know who I will take my business to EVERY TIME. Thank you so much. What great service!
Thanks,
Pam
Thank you so much for the beautiful arrangement. It was exactly what I wanted. The ladies at the
Greenwood location were so friendly and helpful.
Thanks,
Diana
Steve,
Thank you for the gorgeous flowers for our wedding! The shells were incorporated perfectly. We received lots of compliments. They were perfect!
Jessica and Chris G.
Steve,
Thank you so much for the beautiful flowers you and your staff did for my wedding. You were so helpful to work with and you made my special day all the more beautiful! Thank you.
Lisa M.
Steve,
"Thank you for the confirmation! This is by far the best customer service I have ever received from a florist! We are originally from Indy and will use you going forward!"
Lisa H.
Thank you so much for your thoughts. The planter is beautiful. Several years ago a girlfriend whose mother owns a flower shop in Lafayette sent me flowers from your store and they were beautiful. Ever since then you have been my florist of choice in the Indianapolis and surrounding area. You do wonderful, beautiful work!
Thanks again,
Yvonne
Mr. Huth,
I wanted to drop you a quick note back to say thank you. The flowers look great! I appreciate the photos you sent me, and am very pleased with my order.
Have a great evening!
Best Regards,
Mark R.
"Thanks very much! She has received her flowers and really enjoys them. It really made her day. Thanks for your great work, speedy delivery and beautiful arrangement."
Charlotte N.
"Steve was amazing to work with. I went in not knowing exactly what I wanted and he helped me through. The flowers for my wedding turned out so beautiful I didn't want to put mine down. They did a great job with our cake flowers and the flowers on our reception table. I never had a problem getting in touch with Steve to ask questions or make changes. I would recommend Steve's Flowers to all Future brides or anyone needing flowers."
Jeannie
Wedding 10/9/10
"Met all expectations. Flowers looked very nice at wedding. Arrived on time and had very good service."
Heather and Gary
Wedding 1/31/09
Staff at Steve's Flowers,
A note to say the floral centerpieces and mantelpiece you created for the Riggins/Keeler Rehearsal Dinner on September evening were stunning! Not only everyone attending the dinner, but the staff at the Columbia Club all raved about how breathtaking they were. They were so gorgeous, there wasn't even one left at the end of the evening for me to take home. Thank you for your help in making this very special evening for the young couple.
Sincerely,
Carolyn G.
"Just wanted to thank you for delivering my order today to the DeLuca's on Ingleside Ln. It was a very special occasion and I appreciate the effort you went through to get these flowers to them. I talked to both Brittany and Rachel who were very polite and helpful. I did complete my order with Rachel who is extremely respectful, went beyond what her job required and made my girls extremely happy! Thank you for making this happen! The ladies told me the arrangements were beautiful. Thank you again.
Todd. D
RT Dept. Comcast
"Steve Huth.....I want to thank you and your staff for the most beautiful floral arrangement for my wife Amy Birthday which we picked up yesterday. The stargazer lily, the tulips, and the roses brought much joy to my wife and made her feel like a Queen. Steve, you and your staff have never disappointed me with all the floral arrangements you have created for me. I remain a loyal and extremely satisfied customer. God bless you and your friendly and most courteous staff. Thank you for making my wife feel loved and special."
Ron H.
"Yesterday I ordered an arrangement to be delivered today prior to 2pm to Jennifer F. at the Perry Township School Offices. She received them at 1:23 p.m., e-mailed me, and raved over the beautiful arrangement. This is a thank you for yet again, your wonderful workmanship and service. I knew there was no guarantee of delivery before my request of 2 p.m., but you did it! Not to mention the beauty of the arrangement. I live in Virginia (born and raised a Hoosier, though) and have to put my faith in you to get the job done. Each and every time, and there have been other times, you always come through and also go the extra mile. Thank you so very much!
Carol L.
"I work at IHP, and we have always ordered all our flowers Steve's. They do a wonderful job, and I,m always pleased with my order."
Elaine M.
"Excllent customer service, and have been loyal to the southside community for many years."
Jeff S.
"Steve's Flowers has ALWAYS delivered the best quality and best arrangements for a great price. I refuse to EVER use anyone else! I love them!"
Beth R.
"They are the best you can find in Indy. Quality is top notch, and very consistent service."
Danny G.
"Our company has used Steve's flowers for a number of years and we are always pleased with the beautiful arrangements."
Monarch Beverage
HR
"We live out of state, and can always depend on Steve's Flowers to deliver the best! We never worry . We always get compliments about how the flowers we send are always the prettiest.They follow through, and make suggestions and give more than we asked for. Reliable, dependable and outstanding service & flowers."
Mary H
"I use them all of the time here at Custom Mechanical Systems, Corp and they have always delivered beautiful flowers." Thank you.
Sherrill K.
Human Resources
"I live near Boston but have family in Indy. For my Grandmother's funeral, I made a call to Steve's Flowers and asked them to send flowers. They TOTALLY took care of every aspect of it. They sent over the most beautiful arrangement and it didn't cost me an arm & a leg! Their service matched the quality of the flowers!!!"
Rich A.
"Very friendly, considerate, professional service and a knowledgeable staff! An easy process for ordering online, with phone call follow-up, as needed - Steve's care about the customer in all aspects of the transaction! Oh, and they have lovely floral arrangements to go along with that great service!!
Would highly recommend!! Thanx ..... :-)"
Resbos
"I used to live in Indy and now reside in Michigan. I use Steve's flowers for every occasion for my Indy family and friends. The flowers are very fresh, delivery is right on time and the prices are very fair. I highly recommend Steve's Flowers!!!"
Doug M.
"Great products and great service. I have used Steve's for 30 years."
Beatty Insurance
"Steve's Flowers did my wedding flowers. They were sooo beautiful and they looked great! They listened to what I wanted and helped a lot! I would definitely recommend them."
Julie P.
"I have been shopping at Steve's for years. I love their friendly and creative staff at all the locations. I was helped on my wedding day as I was driving out of town to get married and the gals created the most beautiful spray of gerbera daisies to complement my dress. They even helped me package it so it would stay fresh all day. Thank you for your service and advice when picking out just the right arrangement I need."
Connie S.
"I have used Steve's Flowers to deliver my girlfriend birthday roses. The flowers I have purchased were delivered on the day specified. My girlfriend took a photo of the roses and they were top quality. Also, I have received a confirmation mail after the roses were delivered. In short story, excellent service and excellent quality."
Derya S.
"Thank you. What a wonderful service to send a photo of the arrangement. Will definitely give you an A+ review!"
Lynn S.
Wow what a great service you guy's do. I love that you sent the photo so I know exactly what was delivered. I have never had a florist do that before. I am also impressed that you have a service free delivery area. LOVE YOUR CUSTOMER SERVICE!! Next time I need a florist you will be my first call.
Thanks again,
Sue B. 12/9/12