Indianapolis Indiana Florist
same-day flower delivery in Indianapolis IN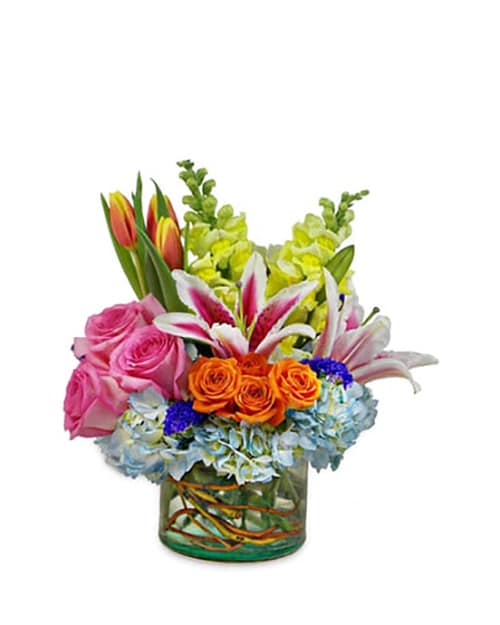 Steve's Flowers & Gifts operates a flower shop here in Indianapoli, Indiand. We locally source flowers and floral products when possible. Our team also purchases flowers and products from growers. We buy from both domestic and international sources. Our floral collection is the best in town. You won't find a wider array of farm fresh flowers and products anywhere in the Indianapolis area.
Our floral design staff is amazing. Truly they are some of the best floral designers in the state. They create beautiful bouquets, themed for many occasions. Our products are guaranteed farm fresh. We provide same-day flower delivery for Indianapolis area hospitals. The list of hospitals and medical facilities we serve includes; Ascension St. Vincent Hospital - Indianapolis, Community Hospital North, Franciscan Health Indianapolis, Kindred Hospital Indianapolis, IU Health Methodist Hospital, IU Health University Hospital, Sidney & Lois Eskenazi Hospital and many more.
INDIANAPOLIS ZIP CODES INCLUDED IN OUR LOCAL DELIVERY ZONE: 46201, 46202, 46203, 46204, 46205, 46206, 46207, 46208, 46209, 46213, 46214, 46216, 46217, 46218, 46219, 46220, 46221, 46222, 46224, 46225, 46226, 46227, 46228, 46229, 46230, 46231, 46234, 46235, 46236, 46237, 46239, 46240, 46241, 46242, 46244, 46247, 46249, 46250, 46251, 46253, 46254, 46255, 46256, 46259, 46260, 46262, 46268, 46277, 46278, 46280, 46282, 46283, 46285, 46288, 46290, 46298
Here is a short list of some of the schools we provide local same-day delivery for in the Indianapolis area; Center for Inquiry School 84, Herron High School, International School of Indiana, Indianapolis Metropolitan High School, Park Tudor School, Shortridge High School, Sycamore School, The Orchard School and many more. Shop at Steve's Flowers & Gifts for beautiful flowers, plants and occasion themed gifts. We provide local same day and express flower delivery service to the greater Indianapolis, Indiana area.
Every flower arrangement we design and deliver comes with our 100% customer satisfaction guarantee. If for any reason you don't love the design we deliver to you, just contact one of our floral design centers. We will replace that arrangement with one of equal or greater value, free of charge. Steve's Flowers is a family owned and operated floral design firm. We currently operate three flower shops in the greater Indianapolis area. We have a flower shop in Indianapolis, located at 3150 East Thompson Road, Indianapolis, IN 46227. Our second floral design center is in Pendleton, located at 105 West State Street, Pendleton, IN 46064. Our third flower shop is in Greenwood, located at 2900 Fairview Pl, Greenwood, IN 46142. Steve's Flowers offers the finest, freshest, highest quality fresh cut floral designs in town. We provide local same day and express flower delivery service to Indianapolis and throughout Marion and Madision Counties.
100% Customer Satisfaction Guarantee
Same-Day Hospital Flower Delivery
Steve's Flowers provides local same day and express flower delivery to all hospitals in the greater Indianapolis, Indiana area. That includes same day get well flower and gift delivery for Community Hospital North, Eskenazi Health Hospital, IU Health Methodist Hospital, Peyton Manning Children's Hospital and Saint Vincent Indianapolis Hospital.
Get Well Flowers
Steve's Flowers offers the best selection of beautiful, farm fresh get well flowers in Indianapolis, IN. Some of the most popular get well arrangements are "Summer Dazee", "Dr. Feelgood" and very popular "Steve's Get Well Balloon Bouquet." Our get well collection includes all your favorite floral varieties. We have gorgeous Amaryllis, Alstroemeria, Carnations, Dahlias, Daffodils, Gerbera Daisies, Gladiolus, Full Bloom Hydrangea, Roses, Stock and more. Many of the flowers we sell are purchased directly from the flower farms. That ensures that each get well arrangement we create will be fresh and beautiful when we deliver it to your patient.
Wedding & Event Flowers
Steve's Flowers offers beautiful wedding and event flowers. We employ an award winning team of wedding and event floral designers. Our staff has years of experience. We have handled some of the most prestigious weddings and events held in Indianapolis and throughout Marion and Madison counties. If you are preparing to begin planning your wedding or event, we encourage you to contact one of our flower shops. Ask to speak with one of our wedding and event planners. We offer FREE wedding and event flower consultations.